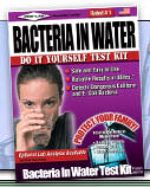 Product ID: PLB-BA110
Category: Testing Kits - Test Kits

Bacteria In Water Test Kit Professional Quality at Home

Description:

The Professional Bacteria In Water Test Kit

Bacterial contamination causes severe digestive problems, fever, nausea, diarrhea and sometimes even death. According to the EPA, total coliform and E. coli bacteria testing is recommended twice a year.

Our simple do-it-yourself test identifies dangerous bacteria in 48 hours. Optional lab analysis is available, which indicates the exact count and type of bacteria present.

PRO-LAB's Bacteria in Water Test Kit utilizes patented EPA approved laboratory analytical method for accuracy and reliability.

1 kit contains - petri dish, bacteria medium, calibrated pipette dropper and information form.